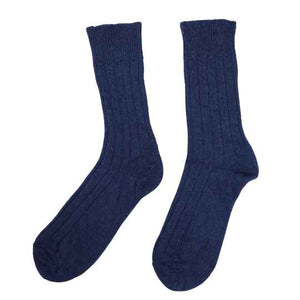 Navy Alpaca Bed Socks
This lovely pair of navy alpaca bed socks are a classic rich navy colour and will make your feet feel warm and cosy. Perfect for slow mornings or cosy evenings in.

Our alpaca bed socks are made in England from 90% alpaca, these socks are highly breathable and you won't want to take them off. Wear them after a long hot bath or shower whilst watching your favourite programme or film. They are also great for taking away glamping and for spa days.  
All of our alpaca bed socks are a gentle loose style fit. 
Our alpaca socks also make a great gift idea. 
Made with 90% alpaca wool.
Designed and manufactured in England. 
Size 4 -7.