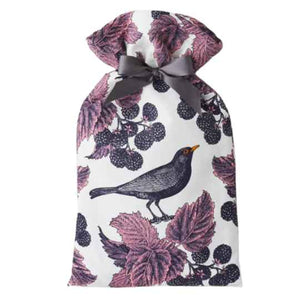 Blackbird and Bramble Hot Water Bottle Cover
Country Mouse loves nothing more than being warm and cosy. This gorgeous hot water bottle cover from Thornback & Peel features a blackbird against a creamy white background with a repeat pattern of blackberries. 
Perfect for snuggling up on chilly evenings. Hot water bottles are a perfect match for a wool blanket or a pair of cosy bed socks. 
Hot water bottles are also really useful on trips away such as glamping, festivals and for easing aches and pains.
Made from 100% cotton with a padded lining. Tied at the top with a stain bow. This makes it easy to fill and remove the hot water bottle from the cover.
Size: L: 38cm, W: 22cm, H: 2cm
This hot water bottle takes a 2L bottle.   
PLEASE NOTE, THE HOT WATER BOTTLE IS NOT INCLUDED.