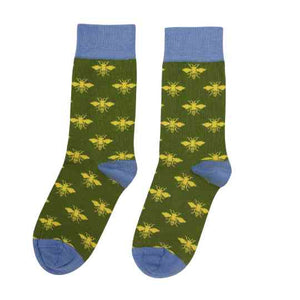 Organic Cotton Green Bee Socks
Our organic cotton bee socks are a fun addition to our cotton socks collection.
This lovely pair of organic cotton socks have a mossy green base with a repeat yellow bee pattern. The socks are finished with a light blue denim colour on the heel, tow and rib. 
Our luxury cotton socks are knitted from soft combed cotton which makes them incredibly soft to wear. The high cotton content ensures they are durable and comfortable with the benefit of being highly breathable.

These luxury cotton socks will look great in any shoe or boot and will cheer up your sock drawer. 

Machine wash at 40 degrees, can be gently tumble dried. Turn inside out to keep them looking lovely for longer.
Designed in London and manufactured in a small family factory in Portugal.

Shoe size 4-7

Made with 80% organic cotton. 15% polyamide, 5% elastane.