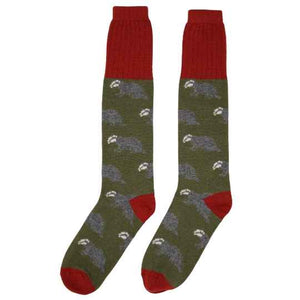 Knee high mens khaki green badger wool socks
Our luxury wool socks are a firm favourite with our customers.
This gorgeous pair of khaki green badger knee high socks feature a khaki green base  with a fun repeat badger pattern. The heel, toe and rib are a deep red colour. The socks fit to just below the knee. 
Enjoy wearing these socks in boots, wellies, shoes or just padding about the house.
Ideal for festivals, bed socks, skiing, walking, camping and many more activities. 
Made from merino lambswool these socks are incredibly soft and breathable, Keeping your feet happy and cosy all day long.
Our merino lambswool socks also make great gifts and presents.
Made from 80% merino lambswool, 20% polyamide.

Shoe size 8 - 7 UK.