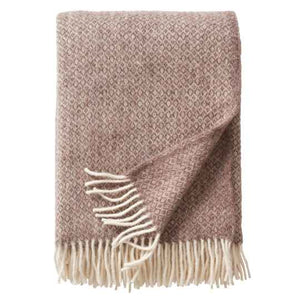 Lima Sand Alpaca Wool Throw
This gorgeous Alpaca wool throw from Klippan Yllefabrik is a warm  brown colourwoven in a subtle diamond pattern. Made from a blend of soft luxurious alpaca wool and eco lambswool, this throw is light weight, warm and cosy.This throw is perfect for those who want an authentic Scandi feel.    
The warm neutral colour is perfect to blend with other colours in your home.
Enjoy this alpaca wool blanket in any room of your home. Leave this throw on the back of your favourite chair or sofa to snuggle under on chilly evenings. The throw can also be used as an extra layer on the bed.
Our wool throws are also perfect for use in the summer, especially if you need to keep the chill off when outside. 
Our throws also make great presents., especially for a 7th wedding anniversary which is wool.
Our Klippan wool throws are thicker than our shetland and merino throws. This makes them perfect for those who want a chunkier snuggly throw.

made from 40% alpaca wool and 60% eco lambswool.
L 200cm

W130cm
Designed in Sweden. All Klippan throws and blankets are manufactured with great care in their own oeko-tex® certified factory. in Latvia.
Wonderfully Warm & Cosy
A welcoming winter blanket to snuggle in to in the deepest dark chilly nights.