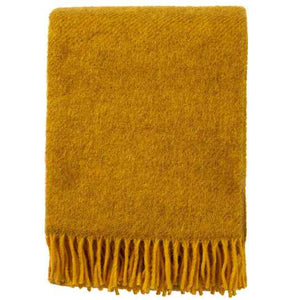 Yellow Gotland Wool Blanket
 This gorgeous Yellow Gotland wool blanket is a rich warm mustard ochre  colour . This blanket is perfect for adding warm colour and texture to your home. Yellow is such a cheerful uplifting colour.
Enjoy using this wool blanket in any room of your home. Leave the blanket on the back of your favourite chair or sofa so thats its ready to snuggle under on chilly evenings. The soft gotland wool will instantly make you feel warm and cosy.

Our gotland blankets can also be used as an extra layer on the bed. Fold them lengthways and place them on the foot of the bed.
Wool blanets also make ideal presents, especially for a wedding or anniversary.  
Our Gotland wool blankets are thick and cosy.
Woven from gotland wool which has been sourced from Southern Sweden. Free from pesticides and chemicals.
Size: 130 cm x 200cm.
25% Gotland wool, 75% brushed lambswool.