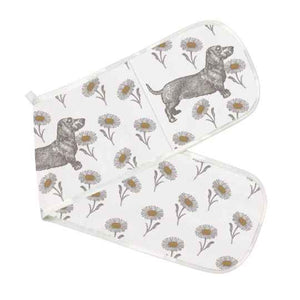 Dog Daisy Oven Gloves
This gorgeous pair of dog and daisy double oven gloves from Thornback and Peel are perfect for those who love dogs.
The oven gloves feature a white base with a whimsical repeat dachshund and daisy pattern.
Printed on 100% cotton, these oven gloves are perfect for handling hot puddings and pies and make a lovely gift.

84 x 20 cm

100% cotton
Heat resistant 
Hanging loop
Wash at 40 degrees
Made in Great Britain